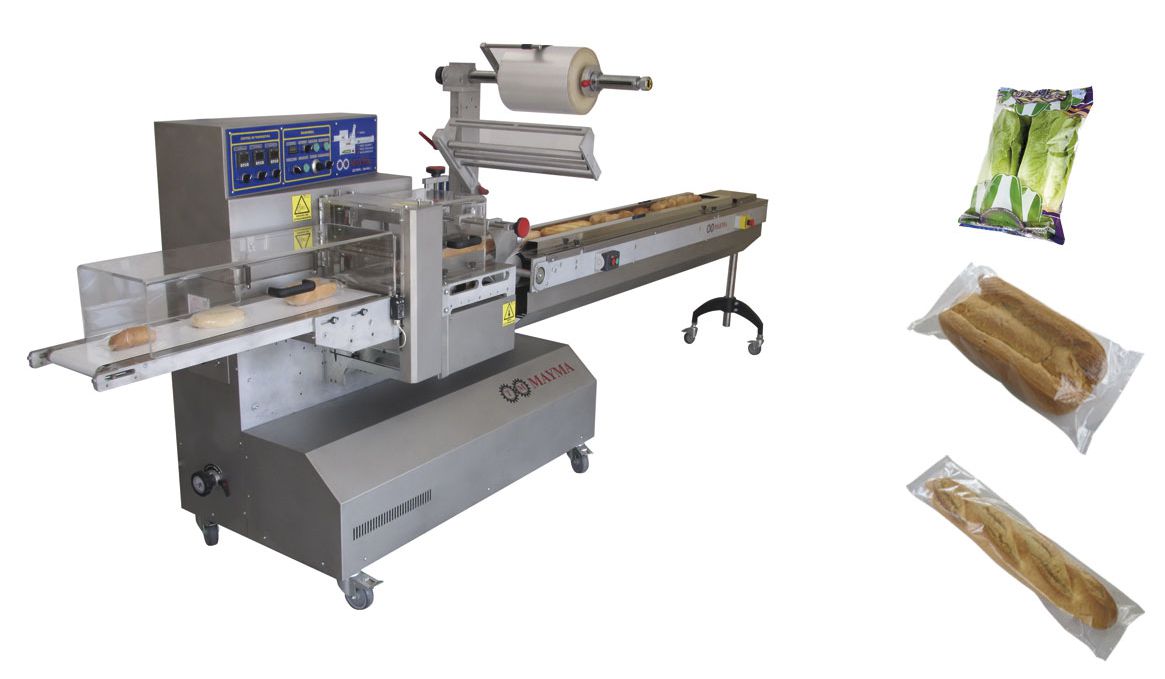 VISTAS DEL PRODUCTO / PRODUCT VIEW
PRODUCTOS FINALES / FINAL PRODUCTS
CARACTERÍSTICAS TÉCNICAS


1. Versión inoxidable.
2. Construcción en placa vertical para la
máxima higiene y limpieza de la máquina.
3. Accesibilidad a mecanismos por la
parte trasera.
4. Sentido de trabajo de derecha a
izquierda.
5. Mordazas rotativas de soldadura
transversal.
6. Tres pares de rodillos de arrastre
longitudinal, soldadura y plegado del
film.
7. Portabobinas autocentrante con freno.
8. Versión de máquina con
funcionamiento intermitente.
9. Largo de bolsa regulable mediante
célula fotoeléctrica.
10. Sensibilidad de fotocélula variable.
11. Sistema de fotocelúla para ahorro
de film.
12. Carro de alimentación con cinta.
13. Túnel formador universal.
14. Lubricación centralizada.
15. Doble portabobinas (opcional).
16. Apertura automática de roldanas
(opcional).


                                                                 

TECHNICAL SPECIFICATIONS

1. Stainless steel version.
2. Cantilever construction, maximum
easy of cleaning.
3. Accesibility to the internal workings
from the rear of the machine.
4. Right to Left operating direction.
5. Rotary cross sealing jaws.
6. 3 Pairs of rollers for longitudinal film
pulling and sealing.
7. Self centring reel holder with a brake
system.
8. Intermittent operation cross seal jaws.
9. The bag length is regulated via a
photoelectric sensor.
10. Variable sensitivity photoelectric
sensor.
11. Photocell savings film.
12. Belt type infeed conveyor.
13. Variable forming box.
14. Centralized lubrication.
15. Double reel holder (optional).
16. Automatic opening of sealing rollers
(optional).